For college basketball fans, March Madness is one the most exhilarating months of the year.
If you're looking to show off your school spirit once your bracket is locked in, explore our Cutter & Buck NCAA men's basketball tournament merch below, including vests, jackets, pullovers, and more.
Every piece is decorated on demand, so get your orders in early, as most take at least five days to ship out. Much like the anticipation for the Final Four, it'll be worth the wait.
Villanova Wildcats Gear
For Him: Villanova Stealth Hybrid Quilted Mens Windbreaker Vest
Details: Sleek and simple, this one of our favorite picks for Villanova apparel. Built with stretch knit DryTec polyester and lightly quilted outerwear fabric, this easy layering piece is one you'll reach for before every big game.
$149 - Ships Free
For Her: Villanova PrimaLoft Eco Insulated Full Zip Puffer Vest
Details:
Coming in four cool tones, this is a perfectly packable transitional piece for spring. Plus, it's engineered with lightweight, recycled, down-alternative insulation to keep you warm in every element.
$209 - Ships Free!
Kentucky Wildcats Gear
For Him: Kentucky Wildcats Navigate Softshell Mens Full Zip Jacket
Details:
Stretchy and breathable, this packable men's jacket is the best defense against wind and rain. Made with a 3-layer bonded softshell, you'll have no trouble staying warm at the Kentucky basketball game.
$154.99 - Ships Free!
For Her: Kentucky Wildcats Stealth Hybrid Quilted Full Zip Windbreaker
Jacket
Details:
Make a statement in the stands with this bright and beautiful women's windbreaker jacket. With cozy knit jersey heathered sleeves and invisible zipper pockets, this sleek look was not only made for Kentucky fans heading to the game, but the afterparty too.
$174.99 - Ships Free!
Gonzaga Bulldogs Gear
For Him: Gonzaga Bulldogs Stretch Oxford Short Sleeve Dress Shirt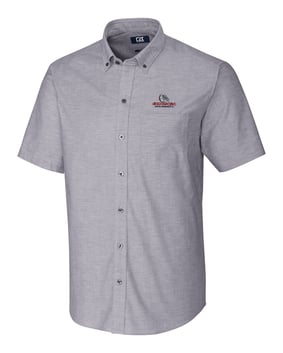 Details:
Made for warmer days and packed stands of Gonzaga basketball fans, this men's short sleeve shirt is built with our crisp and comfortable wrinkle-free fabric, allowing Gonzaga fans to keep all their focus on the final game.
$134.99 - Ships Free!
For Her: Gonzaga Bulldogs Lakemont Tri-Blend V-Neck Pullover Sweater
Details:
A great match for your favorite pair of jeans, this iconic embroidered women's sweater is built for cheering on the Bulldogs with super soft cotton, durable nylon, and stretchy spandex.
$134.99 - Ships Free!
Baylor Bears Gear
For Him: Baylor Bears Evergreen Reversible Overknit
Details:
As the 2021 champions, the stakes are even higher this year. Give yourself one less thing to worry about by throwing on this reversible men's quarter zip with comfortable contrast stitching that will look great whichever way you choose.
$159.99 - Ships Free!
For Her: Baylor Bears Mansail Sweater-Knit Full Zip Vest
Details:
With its stylish curved zipper, it's no surprise this women's vest is a go-to staff favorite. Built with brushed back fleece and satin cover stitch seaming, this vest is cozy and easy. As a bonus, the deep green hue pairs great with neutral tones for when you're in a rush to through in Baylor apparel for a tailgate.
$159.99
Syracuse Gear
For Him: Syracuse Forge Polo Multi Stripe
Details:
Boldly built with our famous Forge fabric, this striped men's polo is a supremely soft and stretchy. Show off your love for Syracuse basketball with this Cutter and Buck Syrcause Orange polo.
$114.99 - Ships Free!
For Her: Syracuse Response Lightweight Hybrid Pullover Windbreaker
Details:
Simple and striking with a pop of classic Syracuse orange, this women's pullover has a great drawstring detail. And, it offers UPF 50+ sun protection moisture-wicking fabric for the next time you want to take a stroll on campus.
$124.99 - Ships Free!
Don't see your NCAA team here? We got you covered. Head here for our entire Cutter & Buck College Fan Shop lineup that includes schools from the ACC, SEC, Big 10, PAC 12, and everything in between.