It's just part of the job – on Tuesday morning, you find out you have a flight on Tuesday evening. You need to pack a bag and be ready for two or three days of client meetings and sales presentations.
You need to be comfortable when you're flying and walking the trade show floor, but you also need to look your professional best. Relax – we've got you covered with a complete, versatile, ready-to-travel wardrobe.
With two button-down shirts, two polos, two top layers, two bottoms and two jackets, you can mix, match and multiply your options. These ten essentials offer comfort and style in easy-care, easy-to-wear pieces. Get ready to go forth and conquer.
Top 10 Essentials for the Last-Minute Business Trip
Nine Iron Full-Zip Jacket
Division Stripe Polo
Greenwood Denim
Rainier Jacket
Long Sleeve Belfair Pima Polo
Lakemont V-Neck
Tailored Fit Spread Collar Nailshead
Bainbridge Flat Front Pant
Shoreline Colorblock Half-Zip
Tailored Fit Fine Twill
CB WEATHERTEC NINE-IRON FULL-ZIP JACKET
A versatile layer in water-resistant twill.
SHOP NOW
CB DRYTEC DIVISION STRIPE POLO
Comfortable stretch fabric with 50+ UPF.
SHOP NOW
GREENWOOD STRETCH DENIM
Versatile garment wash with comfortable stretch.
SHOP NOW
CB WEATHERTEC RAINIER JACKET
Packable, lightweight, low-profile Primaloft® with a concealed hood.
SHOP NOW
BELFAIR PIMA POLO
Soft knit in 100% pima cotton.
SHOP NOW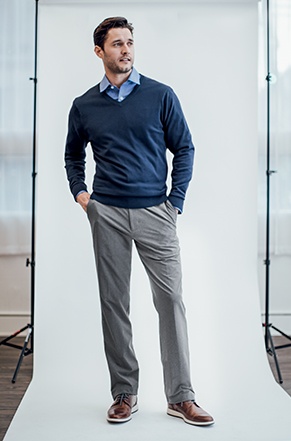 LAKEMONT V-NECK
Essential wardrobe piece with contrast accents.
SHOP NOW
TAILORED FIT SPREAD NAILSHEAD
Epic easy care in a nailshead pattern with spread collar.
SHOP NOW
CB DRYTEC 50+ UPF BAINBRIDGE PANT
Performance with stretch for maximum movement.
SHOP NOW
SHORELINE COLORBLOCK
A midweight half-zip with brushed fleece inside.
SHOP NOW
GREENWOOD DENIM
Epic easy care in a slimmer silhouette.
SHOP NOW