Ahh skorts - a magnificent creation combining the grace and ease of a skirt with the worry-free movement of shorts. A creation so powerful that women everywhere twirl and play and enjoy life freer than ever before.
Pure magic!
So, where can we find this elusive piece of clothing? Finding the perfect skort for any and all things can feel impossible. We're busy women! And we need clothing that moves effortlessly from the golf course, to brunch with the gals, and beyond - without sacrificing style.
Thankfully, Cutter and Buck also believes in the power of a great skort. Because women shouldn't have to choose between looking good and playing hard!
Whether you're looking for a modest a-line, a bold pleat, or a classic little-black-skort, you can find it here.
Here are our top 5 favorite skorts that do it all:
1. Ladies Wave Print Pull On Skort
The Wave Print Skort is a fun take on the traditional golf skirt. It's still a modest length for ladies who want a little more coverage.
You'll stay cool and comfortable from tee time to afternoon drinks. (Cheers!)
2. Ladies Response Skort
A Cutter and Buck cult favorite is the Ladies Response Skort. And for good reason too. You can never go wrong with this classic little-black-skort (yes, we just coined this phrase).
It's the most versatile of the group and has all of the things you love about skorts - comfortable stretch, undershorts, seamless pockets, an elastic waistband, and plenty of style.
3. Ladies Annika Sweat Print Skort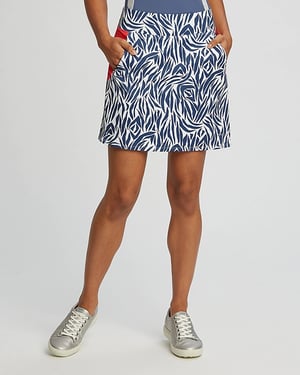 Looking for something a little more on the wild side? You'll never want to stop in the Sweat Print Skort. This skort was designed to shed sweat so you never have to worry about playing too hard.
4. Annika Solar Guard Print Skort
This pleated floral skort speaks for itself! It's so fun it'll make you want to run, jump, and skip all day long. The Annika Solar Guard Skort is perfect for Spring and Summer.
5. Ladies Annika Shine Print Skort
Need a bold skort to match your bold personality? Look no further than the Annika Shine Print Skort. It has all of the staple features in our other skorts, but with double the fun.
The possibilities are endless with skorts!
Take 'em for a spin at the clubhouse, running errands, afternoon drinks, and more.
Check out our full collection of skorts and golf skirts for women. And for a limited time snag your favorite for 25% off - use code: LEGUP25 at checkout!