It's time for the two best teams in the NFL to go head to head, and that means if you aren't attending the big game in Glendale, Arizona, then you are probably planning for a football party. Whether your favorite NFL team is competing or not, there is nothing better than watching the biggest event in football with your friends and family.
You definitely don't want to show up empty handed, so check out these staple football watch party recipes that you can bring to impress any football fan. While you're planning on what to make, make sure to grab some of our officially licensed NFL gear to show your team pride.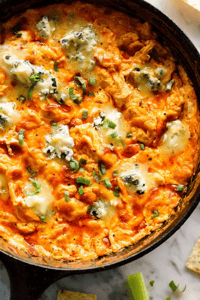 You can't go wrong with a classic Buffalo Chicken Dip as a football party snack. Perfect to dip with some cornchips, this five star recipe is simple to make and won't disappoint your guests.
This is definitely a go-to out of all snack recipes for fall and winter sports events. You can also switch the blue cheese for ranch dressing to keep it more neutral for everyone. Indulge, enjoy the commercials, and cheer on your favorite team for Sunday's big game!
Another great dip to bring to an at-home football party would be the iconic seven layer dip. This is everything you
would put on top of tacos, but in a cold dip form that is easy to make and travels well. The layers in order are refried beans, sour cream, guacamole, salsa, cheese, green onions, and olives or tomatoes. Pair with your favorite tortilla chips and enjoy! The great thing about this dip being cold, is that it'll stay delicious all the way till guests are hungry during the halftime show!
What's a better way to bring the stadium hot dog home than a bite sized hot dog wrapped in a crescent roll? Easy to grab and guests will love them.
Plus, you can offer all different types of dipping sauces that compliment these mini hot dogs for the ultimate snack.

Wings are a must for a football party. Go with the classic buffalo sauce, or you can make a variety of wings tossed in different sauces! Either way, your guests will be happy.
Don't forget to put out ranch and celery sticks for the best flavor and to cool down the hotness.

If you want to get fancy, but still in the theme of football snack recipes, whip up some mac n cheese bites. This crispy, delicious snack will blow you and your guest's mind with how good they are.
What better way to enjoy fried mac n cheese than watching the biggest game in football? If you thought mac n cheese couldn't get any better, you need to try these.
After you're done being the chef of the party, you'll need to throw on some NFL apparel for your football watch party outfit. Shop jackets, polo shirts, pullovers, and more gear from Cutter and Buck's NFL fan shop.
For Him: Cutter and Buck Buffalo Bills Men's Puffer Vest
Layer this men's vest while repping your team with a Cutter and Buck men's dress shirt or men's NFL polo to look sharp and feel comfortable all night long.
Features:
Wind & Water Resistant

100% Nylon shell

Primaloft® Silver Insulation
Shop Men's NFL Apparel
$209.99 — Ships free!
For Her: Cutter and Buck Philadelphia Eagles Stretch Women's Half Zip
This women's pullover goes great by itself or under a Cutter and Buck women's vest. From kickoff to the famous halftime show to the trophy ceremony, you will feel great in this women's quarter zip that offers stretch for ultimate comfort.
Features:
DryTec Polyester and Spandex

Moisture-wicking

UPF 50+ UV Sun Protection
Shop Women's NFL Apparel
$129.99 — Ships free!