With warmer weather approaching, it's finally time to take a trip and go on an outdoor adventure. Chances are, your patio or backyard is not quite the *experience* you are looking for and you want to do some exploring.
One of our favorite ways to get outdoors and explore is to immerse ourselves in nature by going on a hike, visiting new locations, and taking in amazing views. Use our list of the best places to hike in the United States to plan your next trip.
Top 5 Best Hikes in the US
Over 100 miles long, this hike is on the easier side because it offers fewer steep climbs than other trails. You'll find waterfalls, wildflowers, bright green foliage, and lots of wildlife. But spring weather can change wildly from day to day so make sure you pack layers for warmer and wetter weather.
This men's puffer jacket is one of our best-sellers - for good reasons! It's lightweight, fully lined, and wind and water-resistant. When layering for your hike, this is a great coat to have with you and won't add weight to your pack.
Up North on the Atlantic Coast is Acadia National Park. This park features a variety of terrain including woodlands, rocky beaches and it features the highest point on the East Coast of the United States. Spring also means mud season, so be sure to wear comfy clothes that are easy to wash.
Not only will this vest keep you warm without the bulk, but it's fully lined and even packs into its own pocket. Add this wind-and-water-resistant full-zip vest to your hiking clothing options.
Mount Rainier National Park is one of our favorites. This National Park has an active volcano and the most glaciated peak in the US. The sweeping views this park provides along with wildlife found here make this a great hiking destination. The weather is generally cool and rainy; we recommend pairing your Mount Rainier hike with wind and water-resistant clothes.
Our Shield Hooded Jacket is waterproof and wind-resistant, making it a great choice for your next hiking trip. This hooded coat is super versatile hiking clothing because it can help to protect against the elements and isn't heavy or bulky to carry around.
The Sanders jacket is breathable and fully lined, has a fleece-lined collar, adjustable drawcord hem, front zipper pockets, and is waterproofed. This is a great camping or hiking jacket that will keep you warm and protected from the elements.
With 700 miles of trails, forests, mountains, lakes, and meadows, this park is known as the Crown of the Continent. A must-see is the Going-to-the-Sun Road, a 50-mile road that runs across the Continental Divide and travels through incredibly varied terrain; definitely something every nature-lover should experience. Prepare for the trip with clothes that are comfy in the car and on the trail.
Not only is this Saturday Funnel Sweatshirt comfy and versatile, but it's a great layer to add to your hiking clothes.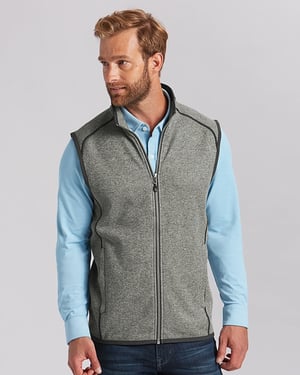 Vests are the best hiking clothes to have because they're lightweight and packable, and keep you warm without having the bulk of a heavy coat. Our Mainsail Vest is the perfect extra layer, keeping you warm and in style, while featuring a rich heather sweater knit fabric with a cozy brushed fleece interior for maximum comfort.
Utah's first national park offers you cliffs of stunning red rock layers, a 1,500 foot tall rock formation, scenic canyons, and over 1,000 species of plants. There are over a dozen day hikes available at Zion National Park, ranging from 1.2 miles of easy terrain to 8 miles through a more challenging Echo Canyon. Stay cool and dry, especially in the summer months, with moisture-wicking shirts, pants, and shorts.
This Stealth Half-Zip is made with moisture-wicking fabric and provides UPF 50+ sun protection, making it perfect for a day out on the trails.
Our Pennant Sport Half-Zip is a super lightweight option that has moisture-wicking CB DryTec and UPF 50+ sun protection. On those warmer, sunny days where you just need another layer on your hike, this pull-over is perfect.
Finding the best hiking clothes is important to ensure your time outdoors is comfortable and enjoyable. Remember to dress in multiple layers for all-day hikes as the weather, especially the temperature, can change unexpectedly. Be adventurous and prepared for any kind of weather on your hikes and other outdoor activities this Spring with Cutter & Buck.

*Before visiting parks, be sure to check for their operating status and mask requirements.
Happy hiking!